Omer Engin1*, Ali Tosun2, Mebrure Evnur Uyar3 Oguzhan Sunamak4, Bulent Suyuk1, Ebru Akincilar1 and Onder Birgi1
1General Surgeon, Buca Seyfi Demirsoy State Hospital, Surgery Department, Izmir, Turkey
2Radiologist, Sanliurfa Mehmet Akif Inan Training and Research Hospital, Radiology Department, Sanliurfa, Turkey
3Emergency Medicine Specialist, Buca Seyfi Demirsoy State Hospital, Emergency Department, Izmir, Turkey
4General Surgeon,Chief Assistant,Haydarpasa Numune Training and Research Hospital,Surgery Department,Istanbul,Turkey
*Corresponding Author:

Omer Engin, MD General Surgeon, Buca Seyfi Demirsoy State Hospital
Surgery Department
Izmir, Turkey
Tel: +902322505050
E-mail: [email protected]
There are many radiological imaging methods used to diagnose intraabdominal free air. Direct abdominal radiography in standing position and PA chest X-ray are the most frequently used methods in detecting subdiaphragmatic free air. The computerized tomography is an alternative method, which provides superior information compared to direct abdominal radiographs in trauma patients. The presence of intraabdominal free air first raises the possibility of visceral organ perforation. However, this is not the case in all conditions. Intrathoracic conditions can also result in the appearance of intraabdominal air on CT scan that may cause misdiagnosis.
The current report presents a 19-year-old patient, who sustained road traffic accident. The patient had been sitting in the back seat, and he was not wearing seat belt at the time of the crash. The automobile had run off the road. The patient was unconscious on admission to the emergency room, and a whole body scan was performed due to general body trauma. CT showed pleural effusion and pneumothorax. There was no evidence for intraabdominal air or fluid (Figure 1). The patient was interned to the intensive care unit. Control computerized tomography scans performed in the following day revealed subdiaphragmatic free air in the upper abdomen (Figure 2). The patient then underwent emergency operation with the pre-diagnosis of intraabdominal visceral organ perforation. There was no sign of organ perforation during the operation. However, splitting of diaphragmatic muscle fibers was observed locally that allowed air leak into the preperitoneal area. There was no peritoneal perforation, and the air spread extraperitoneally. This has led to the diagnosis of intraabdominal free air and visceral organ perforation on CT.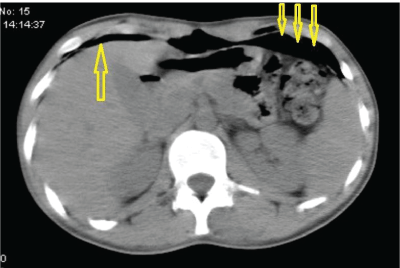 Figure 1: CT image showing normal findings upon admission to the hospital.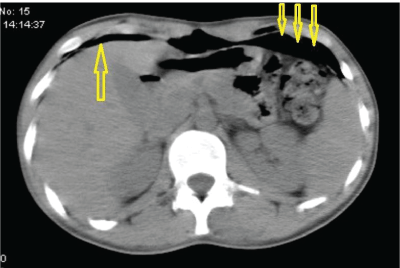 Figure 2: Control CT image obtained in the following day after admission showing subdiaphragmatic air in the upper abdomen (arrows).
The case is presented due to its rare occurrence. The case did not have intraabdominal free air but had extraperitoneal air collection. This finding was interpreted to the favor of intraabdominal free air and led to an operation. Direct abdominal radiographs can be of use in differential diagnosis of similar cases.
The air moves freely within the abdomen. Direct abdominal X-ray obtained in left lateral decubitus position shows the accumulation of free air beneath the lateral wall of the abdomen adjacent to the liver. Direct radiograph in the right lateral decubitus position is not recommended due to interference with the fundus air. The air will not shift with the change in the position of the patient, if the air is localized extraperitoneally. This technique will allow differentiation of free from localized air [1-3].
6030
References
Hamilton P, Rizoli S, McLellan B, Murphy J (1995) Significance of intra-abdominal extraluminal air detected by CT scan in blunt abdominal trauma. J Trauma 39: 331-333.
Marek AP, Deisler RF, Sutherland JB, Punjabi G, Portillo A, et al. (2014) CT scan-detected pneumoperitoneum: an unreliable predictor of intra-abdominal injury in blunt trauma. Injury 45: 116-121.